Emily and Scott's wedding was absolutely incredible. It was a New Year's Eve wedding which took place at Galleria Marchetti in Chicago. Naturally everyone was really amped up for the party and the entire day was pure magic. We were able to capture so many fun moments and stunning portraits. Their gallery has a mix of incredible wall hangers and snapshots you wouldn't believe happened. Before we get to the stunning photos and films we wanted to highlight the people who worked so tirelessly to bring this wedding together:
Photo & Film: Fox + Ivory
Planning: Shannon Gail
Venue: Galleria Marchetti
Bridal Suite: Langham Hotel Chicago
Music: The Union Band
Flowers & Decor: Flowers for Dreams
Chairs & Dancefloor: Tablescapes
Makeup & Hair: Rare Bird Beauties
Cake: Bittersweet Pastry Shop
The Highlight Film
Scott and Emily commissioned Fox + Ivory for both photography and film and we are so excited to share their highlight film below. For their film we wanted to create something that felt old world and romantic so they could at any time embrace and dance to the soundtrack, but still something that felt like a party…
The Morning at The Langham
The morning at the Langham will leave you breathless. We knew Emily's dress was going to be a once in a lifetime dress so we brought "Marlyn" – the dress mannequin. (Yes, this is our mannequin and we bring it for special dresses) (The days of hanging dresses are absolutely over and if you're a bride getting married, take this as your sign to never hang your dress again for photos. Instead use a dress mannequin.) The dress looked absolutely stunning on 'Marlyn" but even better on Emily!!
Once Emily did a first look with her bridesmaids, we were off to the first look with Scott.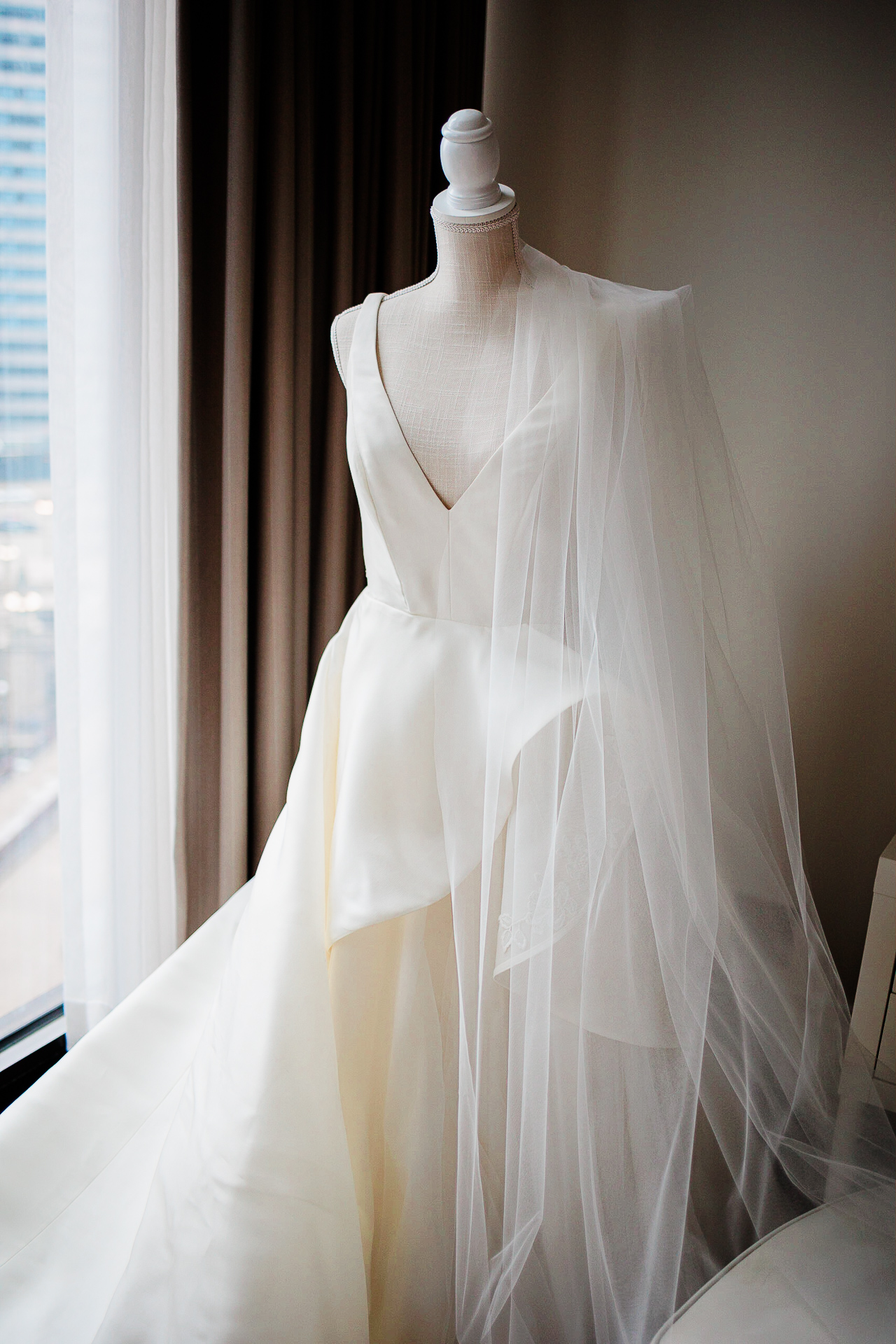 The Portraits at Union Station
With a New Year's Eve wedding we are always against the clock, because the son goes down at almost 4pm. We planned for this and opted to do the wedding party photos and portraits at Union Station. (Yes, Emily and Scott obtained a permit!)
The Ceremony
What a stunning, modern, chic and romantic ceremony at Galleria Marchetti. The decor was just on another level. The officiant was the grooms uncle and he did a stellar job!! So many wonderful things were said, some tears were shed and then Scott and Emily were Married!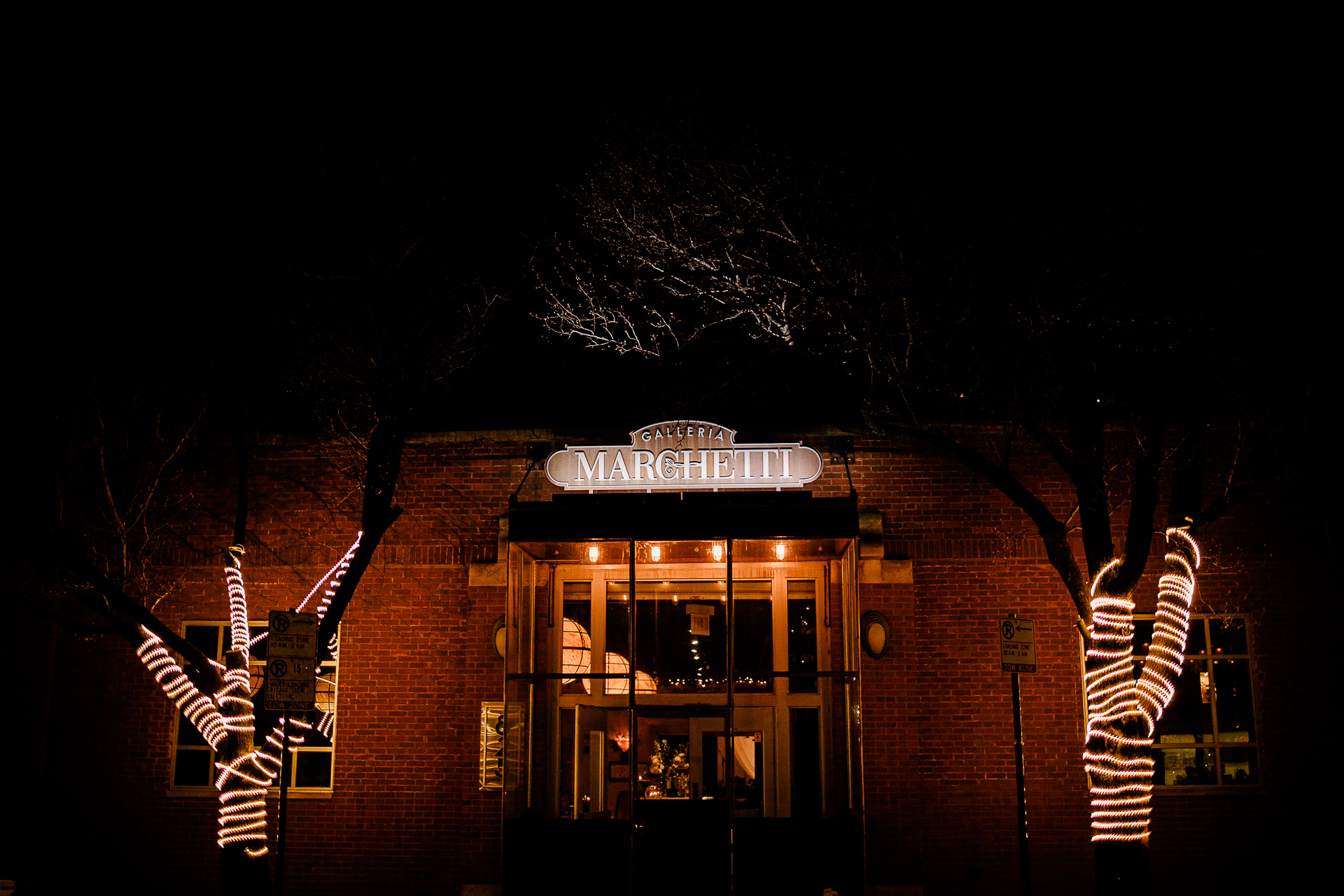 The Reception
Galleria Marchetti and Flowers for Dreams came together to create an amazing look for the reception. Low lit and romantic – it was breathtaking – a few guests even gasped when they walked in after cocktail hour. The checkered dance-floor really was the final touch to bring everything together.
The Union Band played all night and kept the dance-floor absolutely full for the entire night. We captured some really great moments on the dance-floor and then Scott – who is a DJ – got on the decks and finished out the night for everyone! Just look at this party!! What a night!
Cheers to this incredible couple! Thank you for commissioning Fox + Ivory for your amazing wedding day!