Often times we get asked 'Do you offer Raw Footage'? This question always leaves us scratching our heads. Who would want raw footage….?
Let's first examine what raw footage really is , why you don't want it and then what we offer that is so much better than raw footage.
What is Raw footage?
Raw footage is exactly that, it is the exact digital clips that come straight out of the camera. They are unedited, not stabilized and not color graded.
100's of Clips…
There are usually hundreds of raw clips recorded throughout the wedding day in short durations, meaning some clips may be as short at 10 seconds. We keep our clips short because we mostly shoot for the Highlight Film in a very cinematic style. This means our editors will work with two to three hundred clips per wedding. You can't just watch these clips back to back because it simply won't make sense. This style of shooting works really well with our editing approach and gives our couples fantastic wedding films.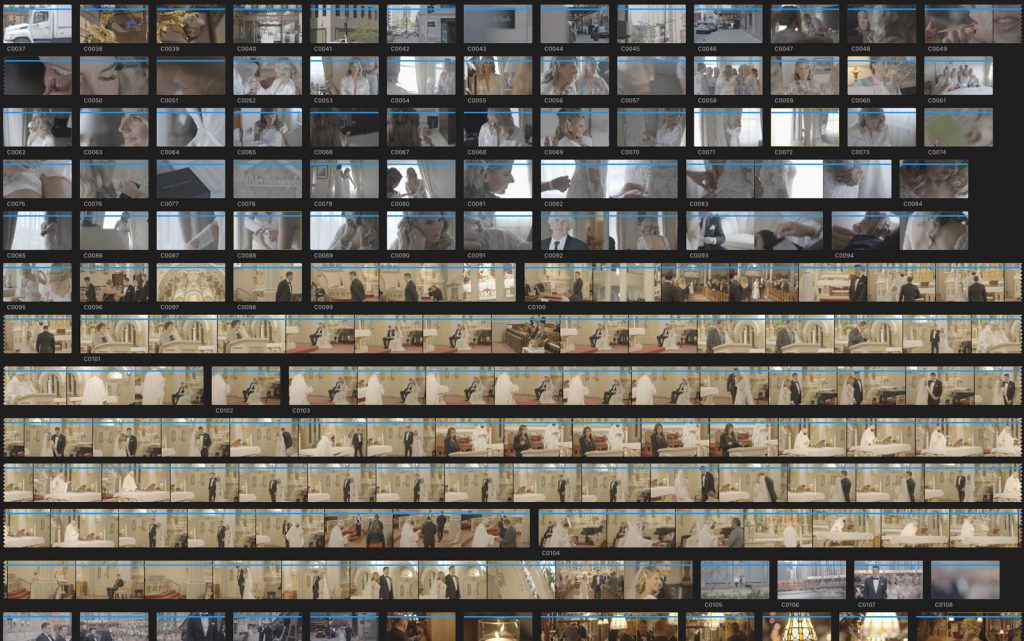 Color Grading
The next reason you don't want raw footage, is that it's not color graded.
This means that the files coming out of the camera are pretty gray looking and underwhelming. This is due to a specific file format which we shoot in (sLog2) to give the footage the most Dynamic Range and preserve highlights. It looks super drab out of camera and needs to be handled by an experienced editor.
Little bit of saturation, little bit of curve tone, color wheels and exposure – we have a secret formula that we use to make our films look awesome. But this all takes time and effort. Notice the difference in the screenshot below…
Looking at the raw footage, you'd be pretty unhappy if your wedding film looked like the photo on the left….
Audio Mixing
Another reason you don't want raw footage is the quality of the audio.
Each camera records its' own audio and 99% of the time, the quality of the audio is pretty bad. Like home camera audio bad. Just really really bad. These cameras are great at capturing video but the audio capabilities are junk. It's ok because we use external recorders and lavalier microphones to capture clean and crisp audio of the ceremony and wedding day reception speeches.
Believe it or not, capturing good and clean audio is just as important as capturing the video. Audio can make or break a wedding film.
Notice in the screenshot below, we have two video angles (one on the speaker and the other on the bride and groom). Then the 3rd track is the clean audio recording right from the DJ's system. We put all this together in our editing software and do a little bit of audio mastering for beautiful and clean dialogue.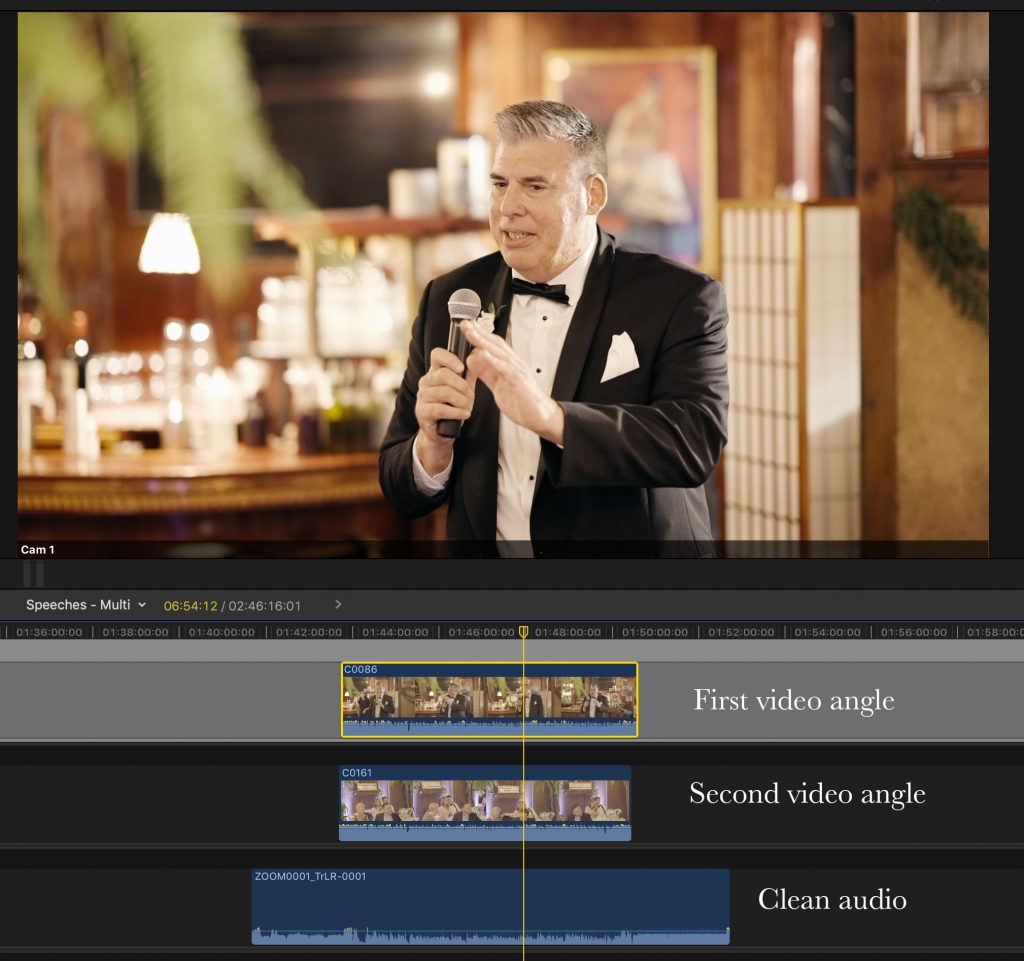 Without this type of approach, you'd hear a lot of background noise (people talking, clanking forks and plates, etc) from the camera's audio recording.
Storage & Size
The last major problem with raw footage we'll discuss is the size and storage.
Usually we end up with around 200 GB – 400 GB (gigabytes) worth of footage from a single wedding. This happens because we shoot from multiple angles at the same time. It gives us more flexibility in the editing room. Recently we shot a 17 hour wedding where we had over 1TB (one terabyte) worth of footage.
Where exactly will you put this footage? You'll no doubt need to buy a hard drive to store it somewhere. This can get very very expensive.
And yes, that hard drive will without a doubt be lost over time.
Artistic Integrity
Lastly, just as a manuscript is an unfinished draft of a book that only an editor would read. Raw footage is really just a building block which only a video editor should see. It is a raw component with limitless possibilities of what could be created using that component (and others).
The artistic style of our films comes from the editing process. This includes music selection, color grading, non-linear storytelling and much more.
Raw footage is unfinished work and we won't let unfinished work leave the studio. Just as a writer would not let the manuscript go on sale to the general public. If we, as a brand, as Fox + Ivory, are going to maintain a high standard of quality for our wedding films, we cannot give (or sell) raw footage.
These are all real issues that stem from a simple question, "Can we have the raw footage"?
Ok, I don't want Raw Footage..
What do I want?
Now that we're on the same page that you don't want raw footage, let's talk about what you do want and what we can offer you.
What you want is what we call a 'Coverage Film'. This film will be as close as you can get to raw footage without any of the issues mentioned above.
A Fox + Ivory Coverage Film is a long form edit which includes the following:
Full ceremony
Reception entrances
Cake cutting
Speeches / toasts
First dances
Title cards
Clean & crisp audio
Color graded video
This will give you EVERYTHING you'd want from your raw footage. THIS is what you want!
Coverage Film Examples
Here's a few examples of our awesome Coverage Films:
In the End…
I hope you now see and understand why the request for raw footage is so impractical.
You'll be happy you got a Coverage Film. Our Coverage Films are better than raw footage. They're easier than raw footage. Our couples (and their families) are always happy they have one.
Maybe you won't watch it as often as your Fox + Ivory Highlight Film, but it's not about how often you watch it. It's about how it makes you feel when you do.
Cheers!