"Can I save money if we only have one videographer instead of two?" This is a question we get asked very often.
The short answer is no.
Here at Fox + Ivory we create great wedding films. We focus on stunning visuals, crisp and clean audio and storytelling to create the unique wedding films that our clients have come to expect.
Better Wedding Films
Two videographers will give you a better wedding film! Even if we are filming just a ceremony, we will send out two cinematographers. We want to capture multiple angles!
Imagine a wedding film where you never see the grooms face because the videographer was filming the bride and someone moved the tripod that was pointing at the groom. Yikes!
See the screenshot below. This couple commissioned our Cinematic Package and our team was able to get 4 amazing angles during the ceremony. This makes for a great and enticing film!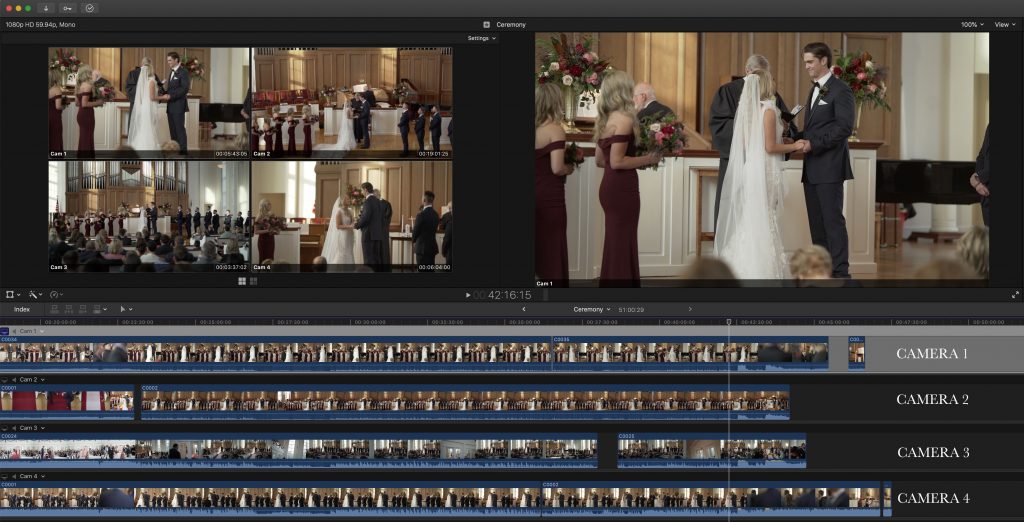 We need 2 manned cameras at all times, for all the major events during the wedding day to capture at least 2 quality angles. Most of the time we'll have an unmanned, 3rd angle called 'the safe cam'.
Whether it's our Coverage Film or the Highlight Package, capturing two angles of the same moment gives the ability to create a better wedding film. We care about the quality of our films.
Don't Believe The Hype
If other companies are telling you that one videographer can do a great job and produce a great film, they are lying! If they man only one camera and place the other two on tripods – sometimes guests move tripods or kids knock into them. Believe me, you'll be stuck with a underwhelming film with missed moments.
Here's another great example of why having 2 videographers is important. Notice the photographer in the frame in the top left angle. She stepped in front of our camera to get her shot, but that's ok because we have two other amazing angles while the bride reads her vows. Having only one videographer on site would most likely mean one of the bottom two angles would not exist.
In My Face…
"I don't want so many cameras in my face." Our teams are very professional, unobtrusive and out of the way. Especially during the ceremony and toasts. No one will be shoving a camera in your face. We use long lenses from far away to stay out of the way as much as possible.
Our clients don't even notice where our video teams are because we're usually so out of the way!
Getting Ready in the Morning
Having two videographers on the wedding day means they can split up in the morning during the getting ready rituals. One will go to the bride prep location while the other will go to the groom. The clips below were shot at the exact same time in two completely different locations.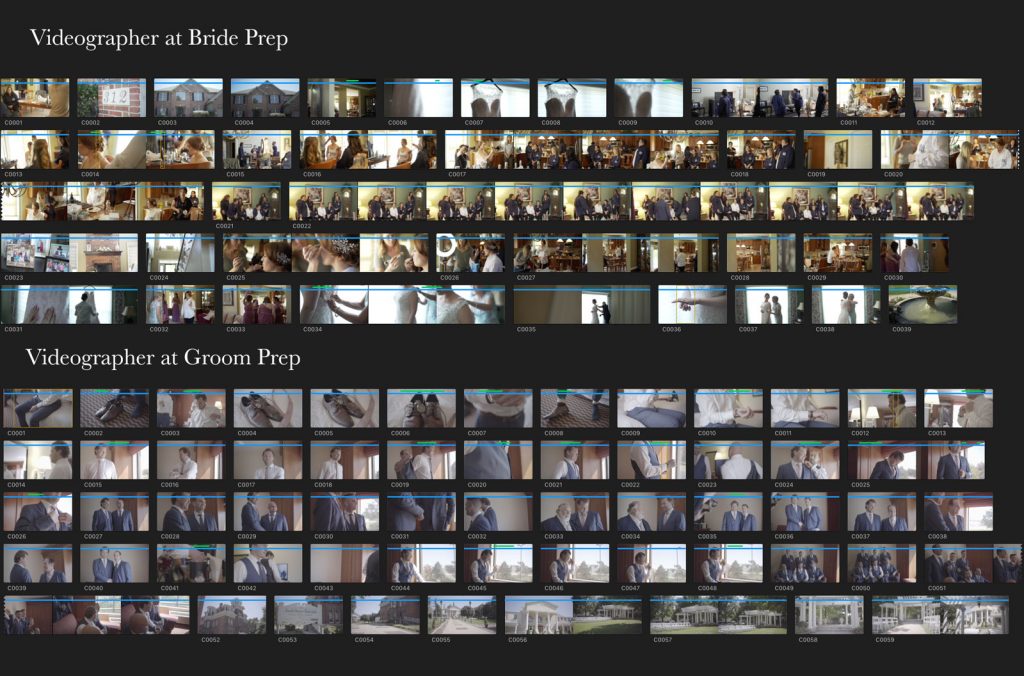 Without this approach, the bride and groom would have to stagger their getting ready times and most likely pay for additional coverage hours.
Having two videographers makes your wedding day easier.
Two is Better
Because we want to create better films for our couples and we want their wedding days to run as smoothly as possible, we will always send out two cinematographers (videographers).
It's just better!